We are Canadian grandmothers reaching out to African grandmothers.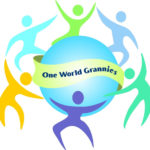 When the AIDS pandemic swept across sub-Saharan Africa, it was grandmothers who, having lost their own children to AIDS-related illnesses, stepped in to raise the millions of orphaned children left behind.
In 2003, while still UN Ambassador for HIV and AIDS in Africa, Stephen Lewis and his daughter Ilana Landsberg-Lewis created the Stephen Lewis Foundation. Three years later they brought 100 grandmothers from sub-Saharan Africa to Canada to meet with 200 grandmothers from across Canada — and the Grandmothers to Grandmothers Campaign was born.
Ottawa's One World Grannies became one of the first "gran groups" to take up the challenge of fundraising and advocacy on behalf of African grandmothers. In addition to fundraising, we support national and international initiatives to improve access to medicines, education, and the empowerment of older women.
We meet once a month in person or online to socialize, learn and plan activities. We have "Core" members who attend meetings and organize events, and "Contributing" members who help with those events.
One World Grannies is part of a network of grandmother groups in the Ottawa Gatineau Region and is affiliated with GRAN, the Grandmothers Advocacy Network.
We welcome your donation. The DONATE button goes directly to the Stephen Lewis Foundation. Your donation will help grandmothers put food on the table, offer them emotional and health care support, fund access to education for girls and boys, and much more.
We also welcome new members! If you are not a grandmother, you are a valued "grandother." We meet once a month in person or by Zoom to socialize, learn, and plan activities. Join Us!
Our Mission
Our mission is to empower and support grandmothers in Africa who are caring for children affected by the HIV/AIDS pandemic. We aim to enhance their lives through education, healthcare, and economic opportunities, and to create a network of grandmothers who can support one another and advocate for their rights. By partnering with local organizations, we strive to make a lasting impact on the grandmothers and the communities they serve, and to promote compassion, hope, and resilience in the face of adversity.
What we do
One World Grannies is dedicated to three areas: fundraising, advocacy and education. We collaborate with other grandmother groups in the Ottawa-Gatineau Regional Network and support regional and national initiatives.
Why we do it
The AIDS pandemic is far from over. Worldwide, the pandemic took a life every minute in 2021 and has left 25.6 million people living with HIV. Sub-Saharan Africa accounts for more than half of all new infections and AIDS-related illnesses are the leading cause of mortality among African women. Adolescent girls and young women aged 15-24 represented 63% of all new HIV infections in 2021 and HIV prevention programs are reaching only 40% of them.
Climate change and the Covid pandemic have multiplied the trials faced by older women and the children in their care. To confound known solutions, the global response to development assistance for HIV has plummeted over the last decade.
Canadian grandmothers vowed in 2006 not to rest until African grandmothers could rest. Their need for our support has not diminished. The funds we raise and the noise we make are a demonstration of Canadian grandmothers solidarity with their African sisters. We help to fund the Stephen Lewis Foundation's grassroots partner organizations, often led by and for grandmothers, that provide holistic care to grandmothers facing discrimination based on gender, age, and HIV status, and help them to become courageous advocates for their families and communities.
The grandmothers movement listens to and amplifies the voices and expertise of grandmothers in Africa, and shows the world that leadership by older women is essential in reclaiming hope and rebuilding resilience across communities.